Nova Scotia's seacoast diversity is what makes this peninsula so unique
Uniquely Nova Scotia:
Come explore Nova Scotia's rich cultural heritage and breathtaking scenery by browsing through Nova Scotia holidays. Canada's Ocean Playground has something of interest for all visitors! Nova Scotia is encircled by eleven scenic travelways that lead you around the provinces. Come and explore our breathtaking shores - from towering cliffs and long peaceful beaches to picturesque bays and charming villages.
There is no shortage of ways to discover our natural beauty and enjoy our renowned hospitality and charm. Come and join us as we celebrate our music and culture at more than 700 festivals and events throughout our province. One example is our Celtic Colours International Festival which has been recognized by The American Bus Association as one of the top Canadian events. Another traditional favourite is the Nova Scotia International Tattoo where a cast of thousands captures the spirit of our rich military past through a symphony of music and color.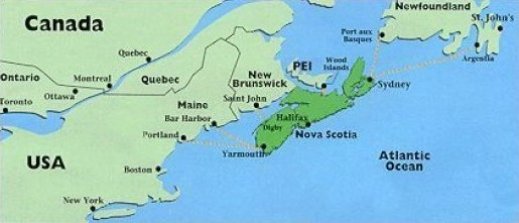 Nova Scotia Highlights:
A destination for all seasons
Unique maritime atlantic province, no more then 35miles from anywhere to the coast
Nova Scotia's maritime climate, reluctant springs, fresh summers, lingering falls and robust winters
Water temperature in the Atlantic up to 66° F and in the lakes up to 77° F
Dramatic seacoast with ideal water sport conditions
Explore the Bay of Fundy with the world's highest tide hub
Worldwide unique ecological area - Fundy Aquarium Ecozone
Whale watch experience at Digby Neck
Thousands of lakes (appr. 5.400), salmon- and rainbow trout paradies
Easy and short flight connection to Halifax
Fast bay ferry services from Maine to Nova Scotia
Whale watch adventure:
Due to the strength of the tide, the Bay acts as a vast nutrient pump for the rest of the Gulf of Maine, sending its waters whirling out past Grand Manan Island to mix in the Gulf of Maine current. It is around Grand Manan Island that one can see the great whales cavort in the early fall each year.
The best whale watch cruises can be taken from various locations in Digby Neck. Each cruise into the Bay of Fundy is unique, you may see beautiful and acrobatic humpback whales and their calves either feeding on herring or krill or basking in the warm sun. You may also see them breaching, or breaking the waters surface as they perform their graceful water acrobatics. Also there are sightings of finwhales, which are the largest whales we have in the Bay, measuring up to 80 feet long! Minke whales are also a frequent sighting in the Bay as well as harbor porpoise, Atlantic white sided dolphins, and occasional pilot whales.
July and August, we are visited by the endangered North Atlantic right whale, the Bay of Fundy is a courtship area for these whales as well as a major feeding ground. In addition to whales you may also see a variety of pelagic seabirds including North Atlantic puffins, kitty wakes, great blue herons, sooty and manx shear waters, phalarope, gannets and much more!
Upcoming Events
Get an overview of the activities we offer and enjoy the atmosphere of the various events. There is something for everyone. We present music and dance, virtual trips through the surrounding countryside and delicious evenings where you get to know and enjoy the culinary delights of the region.
You can always check our website to see our current range of events and take advantage of all the offers while staying at the Lake Midway Cottage. We look forward to your visit and promise that you will thoroughly enjoy your stay in our cottage.
Thinking about Europe Self Drive Tours? Then you should check out the Best European Driving Tours!